The Back Story
Nick Nack was a chain of home decoration stores that were created in the years of the crisis and had to overcome the diminishing buying power that was evident at that time. The business model that had worked efficiently in previous years didn't seem as viable any more.
We came in the project to provide a solution to that problem and create an alternative way to how people bought things for their homes. The task in hand was to provide a fresh buying experience and give people new incentives for parting with their money.
The Design System
Designing for a new buying experience was an interesting goal. It had to be honest and intimate, but at the same time had to provide a high-end-worth-your-money feeling for the customer. Although the brand was design oriented, we had to find the right balance so that design didn't end up too cold and distant for its audience.
Logo & Corporate Applications
That idea of loving has been used in a variety of brand applications. By giving attention to the little details, we have given a personal touch to applications that often, although well designed, end up having a generic treatment on a conceptual level.
The Strategy
We all have these special objects that mean so much and sometimes are worth very little in comparison. That was the basic idea behind Nick Nack, a shop where you could find something special for someone you love, even if that happens to be yourself!
Leaving behind the days of blind consumerism Nick Nack's proposition was to love the idea of giving more than that of buying. It didn't have to be expensive, but it should be special so it would stay with its new owner for many years to come. Nick Nack's strategy and its applications were built around this concept, to differentiate the store from its competition and provide a unique experience.
Little things,
great emotions
Visual Merchandising
When it comes to designing a commercial space, apart from the design and the general aesthetics, we put our weight on the customer experience. It is a really exciting task to try and exceed people's expectations from a brand. So we studied customer data and created "hot spots" inside the store, to better fulfill their needs and give them a little surprise in the end. We wanted the experience to have a rhythm, not too intense nor too cool all the time, and that is how we picked the right spots in the store.
Good things
hide in the details
Packaging Design
What more can one ask than to receive a gift that has been lovingly created just for them? That is the concept behind the creation and design of the gift packaging of Nick Nack's various offerings. No matter how expensive or economic, each gift is wrapped in cloth and paper strips that create a different outcome each time.
No matter how often someone receives a gift from Nick Nack, they will never get the same wrapping twice! Check the gallery below for a small sample of the almost infinite variations.

We love honest intentions, especially when they are coming from a brand. We appreciated the Nick Nack project, not only for the countless opportunities to create something memorable, but for the underlying message of these applications. A brand new meaning to the concept of buying.
The outcome seemed to do justice to that approach and that was made obvious by the reactions of the people to the experience we provided. From the little details like the gift cards, to the greater projects like the store window designs, people seemed to react as we expected them to. They needed a brand to treat them as individuals and not just as a buying crowd.
Spiros Drakatos
Creative Director
We showed the Nick Nack staff how to shape paper clips like hearts, for use with the various cards. We believe that when you care about the details you show people you care about the brand and its promise to them.
By controlling the flow of merchandise in space,we can control the ideas that customers get from it, ranging from its price, to quality, to any other attribute we want to attach to it. As a result we offer people that visit the store a clear way to navigate it, giving them specific incentives along the way. A unique customer experience is for us part of the value proposition a brand should promote to its customers.
Generic is the enemy of great.
Clear signage was used to distinguish the various hot spots in the store. The text on them remained concise with the rest of the brand language.
Pictured above is the "Exclusives" hot spot, designed to host special, and often more expensive items, in order to create a higher tone for them. To emphasize the mood of emotional shopping, we created decoration graphics that used handmade textures and typography.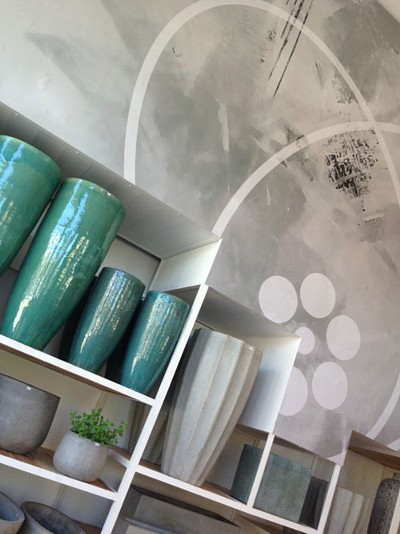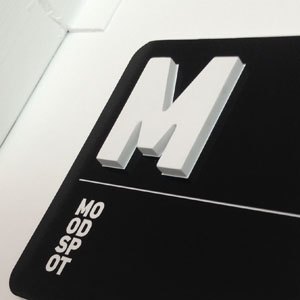 Another custom made packaging solution is the one used for wrapping small pots. It consists a valuable application for the brand, not only because it makes a memorable impression to those who see it. It was designed with economy in mind and it is made from a single strip of paper and a rubber band.
Store Window Design
We consider a store window, a window to the brand's soul. Not only it should promote its products, it should communicate its culture and promise. In that context we created the "Welcome to Wonderland" concept when the store first opened. People would enter a new kind of shopping experience and a 4 meter Alice, brought to date with sneakers, ipod and tattoos, was there to make sure they knew it. Check the gallery below for a detailed presentation.